07 Oct 2016
The Best Mens Shampoo for Every Hair Type
Finding the Best Mens Shampoo
General Shampoo Knowledge
Before we even discuss shampoos I think a lot of men out there need to know a few things about them.
Don't buy it just because it's cheap. Just because a shampoo costs $4.50 a bottle and sells pretty well at your local Target or on Amazon doesn't mean it's a GOOD shampoo. A low cost shampoo is exactly that, something made with low cost ingredients that aren't in the least bit going to help your hair maintain its health.
Try your new shampoo for at least a month. After you read through the article and select your new shampoo, be sure to use it for at least a month. The first few days of a new shampoo will likely feel amazing, and that's great! You still need to continue using it to let your hair get used to the new product and then you will find out how much it can offer you.
Match your hair to a corresponding type of shampoo formula. This is a common sense piece of advice here, you obviously shouldn't buy a shampoo targeted for thinning hair if you have thick, oily hair. Be sure to identify what type of hair you have and match it to a shampoo formula designed for you.
Now that we know a little more about what we are looking for, lets find the best mens shampoo. The factors we considered when making this list were price, fragrance, and ingredients. Who doesn't want a great smelling shampoo that doesn't break the bank and will leave their hair in perfect shape?!
Best All-Around Mens Shampoo
So you're the lucky guy with perfect hair, you don't have thinning issues and you don't even know what dandruff is. First, let me express the jealously of men worldwide. Second, congratulations! For you finding shampoo is easy, every shampoo is the best mens shampoo. However, that doesn't mean they are all great, so here are your top two shampoos.
If you aren't worried about how much your shampoo is going to cost, this is the one for you. Organic, Sulfate Free, and tons of reviews to back it up. Don't get hung up that it has "Anti-Hair Loss" in the title, you will get a superior clean and protect your hair from undesired chemicals at the same time. The only downside is you will be paying a premium price, but your hair will thank you.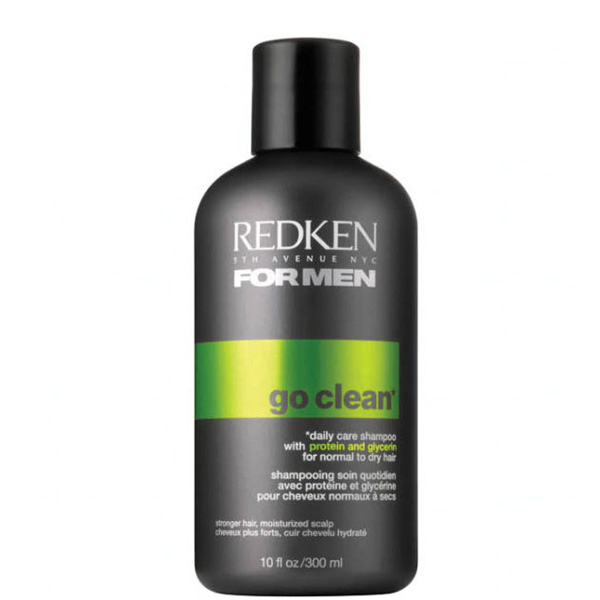 Our all around choice as the best mens shampoo, Go Clean will give you a long-lasting manly scent and a moisturizing clean. It's hard to beat that. Another big plus with Go Clean is the 20oz bottle will last you 6+ months with ease. The only other thing to know about this shampoo is that it is best used on normal hair. If you have something specific you are looking to address, I recommend looking at other options first.

Best Shampoo for Dry Hair/Dandruff
Ah, the dreaded day has finally come. You're walking into a meeting, the gym, or just sitting at home and realize your scratched your head and started to "snow". You have dandruff. Pretty much all of us have been there and it SUCKS! Now is a VERY good time to find the best mens shampoo for your dry scalp. Luckily for you we have the solution.
The only three things you need to know about this shampoo:
Leaves hair smooth and shiny, even without a conditioner

Eliminates dry scalp and dandruff

Gives a tingling sensation and has a refreshing minty smell
I think that sums up the shampoo, but I still recommend using a conditioner even with this shampoo, it will only help even more. Added bonus – You don't have to pay salon prices!

An anti-dandruff list wouldn't be complete without Head & Shoulders. There's a reason this is the #1 recommended brand by Dermatologists, it works! The Clinical Strength Shampoo is a no-frills, to the point anti-dandruff / dry scalp shampoo. A nice upside to this product is you are getting 2 bottles for the price, so you should easily get 6+ months of life from the combo.
Best Shampoo for Thinning Hair
We didn't go with a 'Premium' and 'Budget' here because we believe in recommending quality products. Both of these shampoos are made with high quality ingredients and at 16oz for the bottle they still should last 4 months or longer. That thinning hair will be gone in no time.
You can't beat the tried and true Jack Black brand. Their Volume Thickening Shampoo is made with a slew of natural ingredients and is extremely well reviewed. It uses natural oils such as tea tree leaf, lavender, sage leaf, wheat protein, sunflower seed, and basil to improve hair health, and as an added bonus is paraben, fragrance and colorant free. All of this means it is not only great for thinning hair, but it also helps with dry hair. The one warning with this shampoo – It may be a bit much for guys with oily hair.
Bonus: The Jack Black Nourishing Hair and Scalp conditioner is my personal favorite, it's a great pair with the shampoo.

Everything you need to know about this shampoo is right in the name. Its all natural, organic and it's made to combat hair loss. Like Jack Black, it uses a range of natural ingredients such as Argan Oil, Aloe Vera extracts, Vitamin K and essential fatty acids. To top it all off, its offered with a 100% satisfaction guarantee. Additionally, don't get hung up on the "3 month supply" tag, this product is recommended for both men and women so the longevity of the bottle is shorter when used on women's hair. Unless you have hair down to your shoulders it will easily outlast the 3 month quote.

Best Shampoo for Oily Hair
Oily hair, sometimes a forgotten issue for guys. With all of the commercials we see about hair loss and dandruff its sometimes easy to overlook oily hair. Have no fear, we made sure that wasn't an issue.
It almost seems cliché to recommend the #1 best-selling product to defeat oily hair, but again there is a reason its #1, it is the best. Another all-natural solution that not only combats oily hair, but also can help with flaky scalp caused by it. Packed with essential oils (Lemon, Rosemary, Cypress, and Basil), sulfate free, paraben free, hypoallergenic, and the list continues, you truly are getting the best solution for oily hair.
So there you have it, the best mens shampoo for various hair types. If you haven't seen it yet, check out our Mens Hair Care 101 guide to get even more great info on keeping that mane looking great!